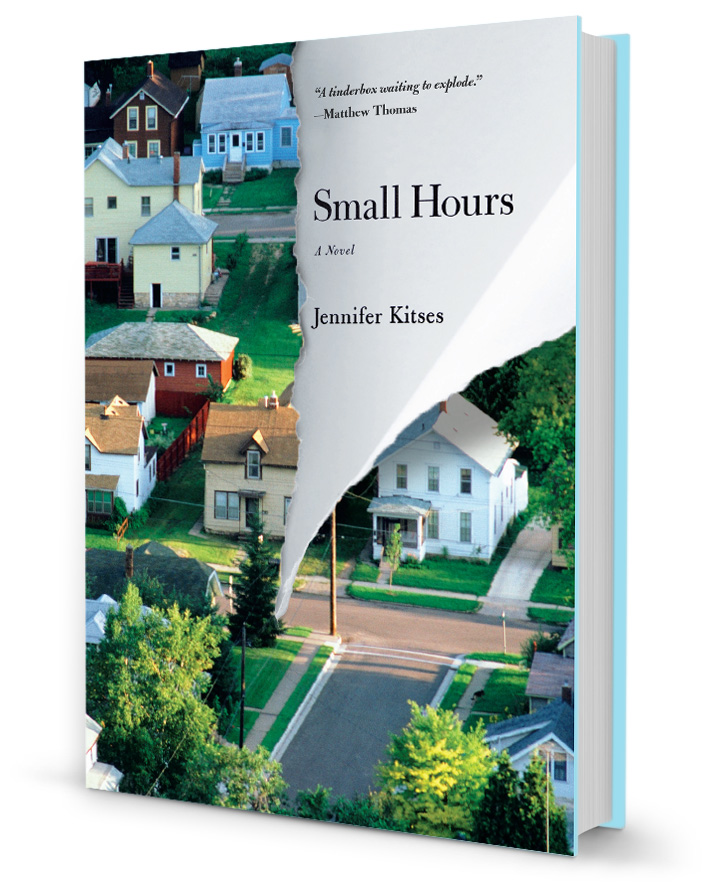 Small Hours
In a story that unfolds over the course of a single day, a husband and wife try to outrun the secrets that threaten their marriage, sending their lives spiraling out of control.
On the edge of the economic downturn, Helen and Tom fled New York for what they'd hoped would be a fresh start: a small home in a former mill town, where they could raise their twin daughters away from the pressures of the city. But two years later, their fragile equilibrium has hit a breaking point. One September morning, Helen begins to lose control. Exhausted from juggling ambitions, frustrations, and unrealistic expectations, she snaps — and finds herself drawn into a violent conflict with two local teenagers. Unaware of her danger, in a Manhattan office seventy miles away, Tom is facing a crisis of his own at his high-pressure newsroom job — and struggling to hide a second, secret life.
The hours tick by ruthlessly as Helen and Tom fight to bury the mistakes and lies that are rising ever faster to the surface. Searing and suspenseful, Small Hours is both a powerful story about how one misstep can derail a life and a moving portrait of a couple's search for a new path forward.
"The novel succeeds as both a disquieting tale of ordinary horror and a portrait of a marriage at a tipping point."
–Kirkus
Praise for Small Hours
The Believer Book Award Longlist: Readers' Favorite Works of Fiction In 2017
"The heart of this taut novel is a tinderbox waiting to explode. Kitses's surprisingly suspenseful plot finds intrigue in unexpected corners, as a married couple face existential crises in a hothouse environment of suburban ennui, with shades of A. M. Homes's Music for Torching. A damning portrait of unexamined privilege and a radically persuasive argument for the need for communication in relationships."
– Matthew Thomas, New York Times-bestselling author of We Are Not Ourselves
"In her page-turner of a debut, Jennifer Kitses has captured the spirit of Tom Perrotta and Richard Russo, painting a dramatic portrait of a suburban marriage on the rocks. She shows all too well the emotional pitfalls of working parenthood and the precipice that so many of us navigate every day. A rich, searing, and unforgettable novel."
– Julia Fierro, author of Cutting Teeth and The Gypsy Moth Summer
"A brave, brilliant debut, written in prose like the edge of a razor blade, about how little it takes for any of our lives to spin out of control—and how we can struggle to put back the pieces. Gripping, haunting—and dare I say it? Life changing."
– Caroline Leavitt, New York Times-bestselling author of Pictures of You, This Is Tomorrow, and Cruel Beautiful World
"Jennifer Kitses slowly and artfully turns up the flames in her debut novel until Small Hours reaches a raging boil. Tom's and Helen's disparate twenty-four hours, wracked and ruined by a jumble of anxieties and miscues, unravel with the tension of a thriller and the gimlet-eyed observations of a novel of manners."
– Teddy Wayne, Whiting Award-winning author of The Love Song of Jonny Valentine and Loner
"The big secrets that haunt Small Hours will keep you on high alert, wondering what you don't know about your friends and neighbors."
– Mira Jacob, author of The Sleepwalker's Guide to Dancing
"Jennifer Kitses's taut debut, Small Hours, is like a time bomb whose ticking you don't notice until it's too late. I was riveted, shaken, and deeply moved by this insightful story of a marriage on the brink."
– Will Allison, New York Times-bestselling author of Long Drive Home